From Friday, June 1, 2018, through Sunday, June 3, 2018, anyone who joins the battle in Star Wars™: The Old Republic™ and completes three group missions will earn the new MB-6 Micro-Defender Droid Mini-Pet and celebrate the EA Play to Give campaign!*
Through EA Play to Give, we're celebrating the importance of inclusion and play and the positive connections it makes for all the diverse players around the world. Help us celebrate what everyone in our galactic community contributes to our galaxy!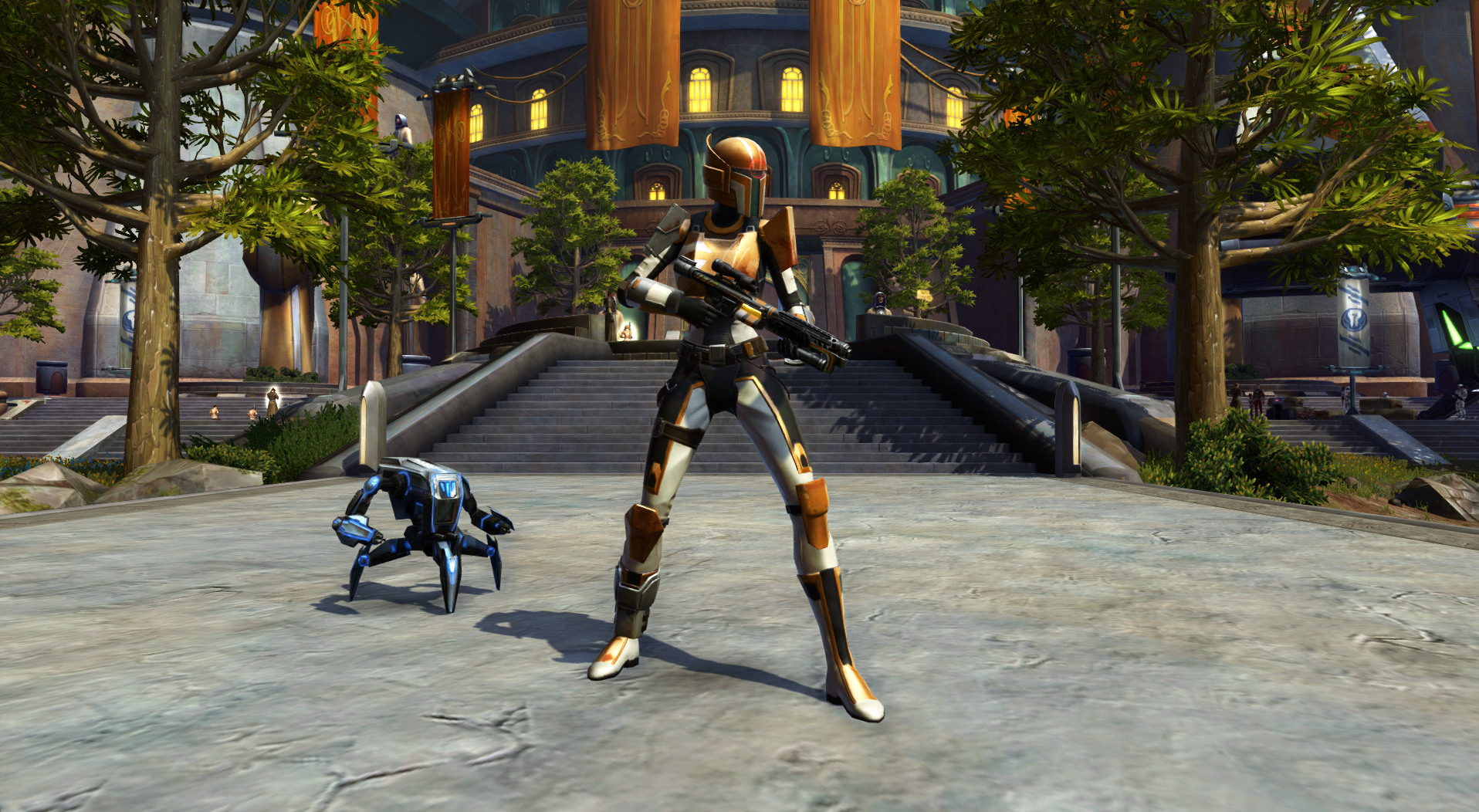 Next weekend, team up with friends new and old in battles across the galaxy to get rewarded:
All players who complete three group missions using the Activities Window between June 1 – 3, 2018 will earn the new 'Play 2 Give: 2018' in-game achievement, unlocking the MB-6 Micro-Defender Droid Mini-Pet through the Achievement system. Once you've earned the achievement, the mini-pet will automatically be added to your character's list of available pets.
Constructed with high-durability alloys and painted a striking blue, the MB-6 Micro-Defender Droid can join your exciting adventures no matter where your galactic travels take you. The MB-6 Micro-Defender is a Legacy-wide reward that can be used across all characters in your Legacy.
Get to the Activities Window by typing Ctrl + G and join multiplayer missions including Flashpoints, Uprisings, Operations, PvP Warzones, and Galactic Starfighter!**
Learn more about these EA Play to Give partners and stay in the conversation on all things Play to Give
here
.
*THIS IS A PROMOTIONAL OFFER ONLY AND DOES NOT HAVE A CASH VALUE. REQUIRES A STAR WARS: THE OLD REPUBLIC ('SWTOR') ACCOUNT AND ACCEPTANCE OF
EA'S USER AGREEMENT
AND
PRIVACY & COOKIE POLICY
. YOU MUST BE 13+ AND HAVE A PERSISTENT INTERNET CONNECTION TO PLAY. PLEASE ALLOW UP TO 24 HOURS FOR NOTIFICATION OF DELIVERABLES. VALID WHEREVER SWTOR IS SOLD. LIMIT ONE OFFER PER SWTOR ACCOUNT. OFFERS MAY NOT BE SUBSTITUTED, EXCHANGED, SOLD OR REDEEMED FOR CASH OR OTHER GOODS OR SERVICES. MAY NOT BE COMBINED WITH ANY OTHER PROMOTIONAL OR DISCOUNT OFFER, UNLESS EXPRESSLY AUTHORIZED BY EA; MAY NOT BE COMBINED WITH ANY PREPAID CARD REDEEMABLE FOR THE APPLICABLE CONTENT. VOID WHERE PROHIBITED, TAXED, OR RESTRICTED BY LAW.
**PAID SUBSCRIPTION OR PAID GAME TIME CARD REQUIRED TO ACCESS SOME GAME CONTENT. SEE
HERE
FOR DETAILS.
← Prev news:
#SWTOR Cartel Market Specials: Week of June 4
---
Update comments