Get your hands on some Cartel Coins and Take Advantage of the Galactic Blowout!
Check out today's deals including the Wanted Smuggler Bundle, Keeper of Iokath's Armor Set, Strategic Command Walker Mount, Force-User Personnel Bundle and more. Also, enjoy 10% off the Ultimate Cartel Pack Hypercrate through Sunday, November 25!
HYPERCRATE: ULTIMATE CARTEL PACK – 10% OFF FOR 1 MORE DAY !
Enjoy 10% off now through Sunday, November 25 –

5,400 Cartel Coins

NOW 4,860 Cartel Coin
This Hypercrate contains 30 Ultimate Cartel Packs where each pack contains three randomly drawn items from the vast array of Cartel Market items. Each pack opened increases the chance of a random Platinum item!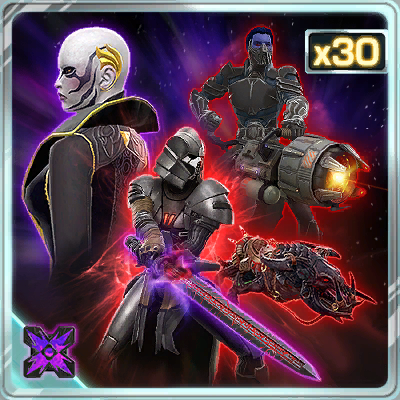 WANTED SMUGGER BUNDLE – 50% OFF TODAY ONLY!
On Sale Today Only: 2,500 Cartel Coins NOW 1,250 Cartel Coins
Luck is sure to be on your side with the 'Wanted Smuggler Bundle' that includes these items:

Expert Outlaw's Armor Set
Desler DS-4 Mount
Zakuulan Exile's Offhand Blaster
BL-28 Blaster
KEEPER OF IOKATH'S ARMOR SET – 50% OFF TODAY ONLY!
On Sale Today Only:

1,440 Cartel Coins

NOW 720 Cartel Coins
Honor the technologically advanced culture of Iokath by battling in the 'Keeper of Iokath's' Armor Set.
STRATEGIC COMMAND WALKER MOUNT: 40% OFF TODAY ONLY!
On Sale Today Only:

1,500 Cartel Coins

NOW 900 Cartel Coins
Combined with Zakuul weaponry with Galactic Republic surveillance technology, the Strategic Command Walker forms an effective mobile command headquarters.
FORCE-USER PERSONNEL BUNDLE – 40% OFF TODAY ONLY!
On Sale Today Only:

1,100 Cartel Coins

NOW 660 Cartel Coins
Whether you follow the light or the dark side of the Force™ we've got you covered with the new Force-User Personnel Bundle. The Jedi and Sith civilians in this bundle will amp the ambience in your Stronghold to the Force™.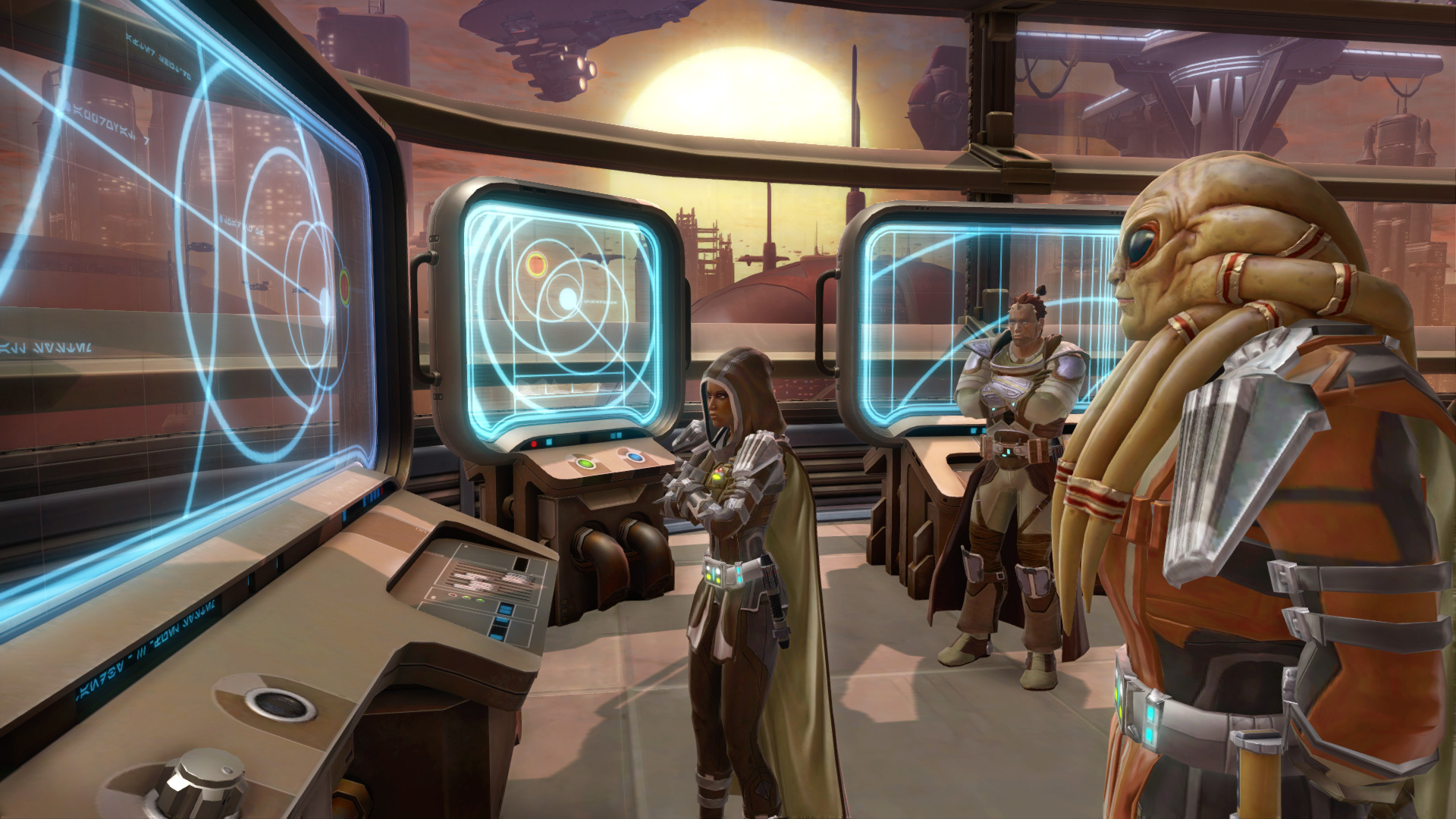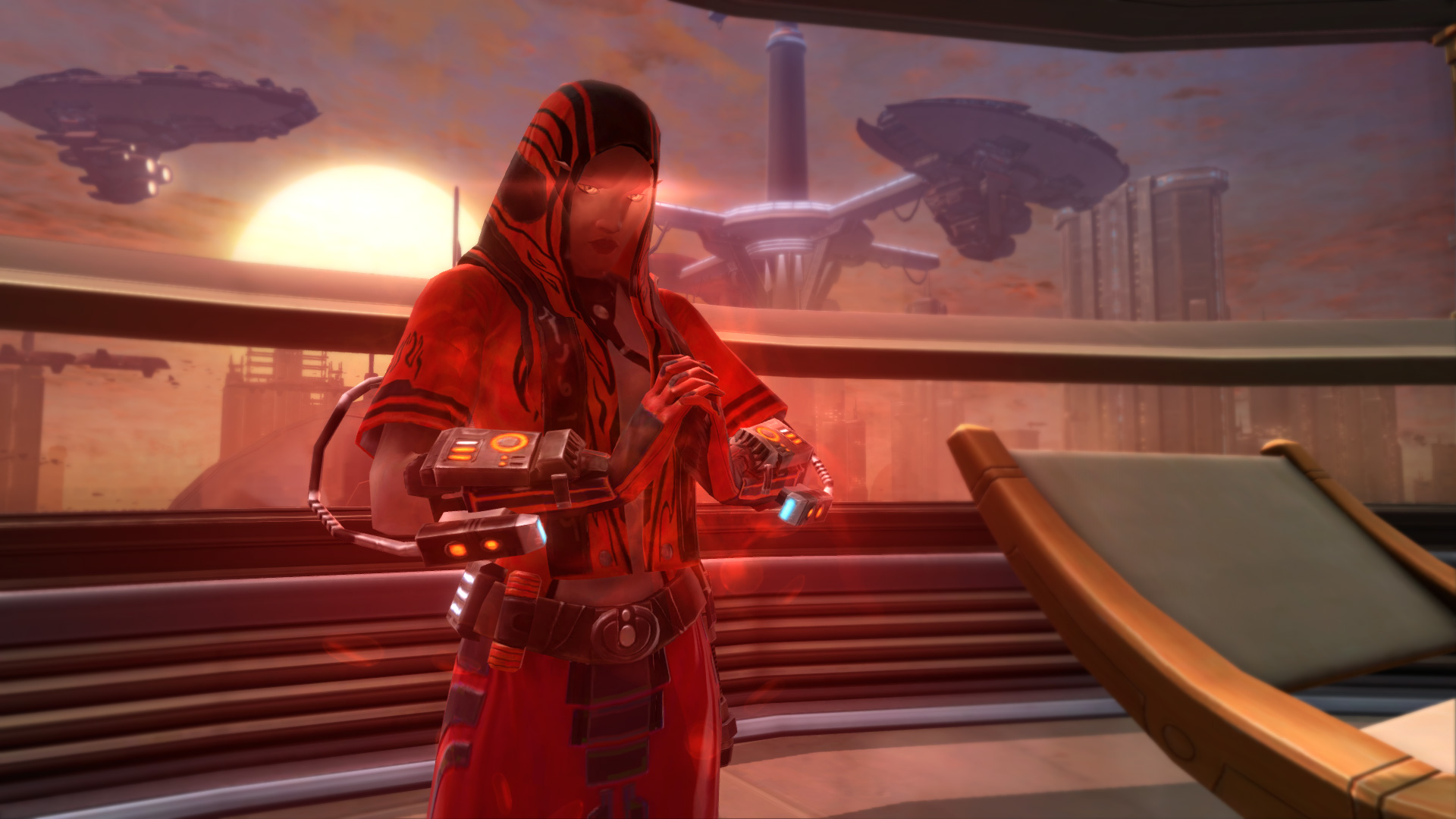 Log in to check out these daily deals and more:
Cavern Varactyl Mount – 40% off

1,500 Cartel Coins

NOW 900 Cartel Coins
White and White Dye Module – 40% off

1,000 Cartel Coins

NOW 600 Cartel Coins
Meditation Chamber Toy – 50% off

380 Cartel Coins

NOW 190 Cartel Coins
Defiant Vented Dualsaber – 55% off

3,000 Cartel Coins

NOW 1,350 Cartel Coins
Battlefield Commander's Armor Set – 50% off

1,440 Cartel Coins

NOW 720 Cartel Coins
Nathema Sithspawn Mount – 40% off

1,500 Cartel Coins

NOW 900 Cartel Coins
Droid Compaion T4-1D – 40% off

1,400 Cartel Coins

NOW 840 Cartel Coins
Thexan's Robes – 40% off

1,440 Cartel Coins

NOW 864 Cartel Coin
← Prev news:
#SWTOR Cartel Market Galactic Blowout: Saturday, November 24
---
Update comments