Holiday Ops. is winding down!
You only have a few days left to benefit from all the discounts, bonuses, and rewards. Most of them are valid until Jan. 14, 03:20 PT | 05:20 CT | 06:20 ET — but there are some exceptions. Here's what you need to know so there are no surprises later.
Bonuses & Discounts
You can choose a vehicle for the discount until the release of Update 1.4 (tentatively scheduled for early February). Those will be highlighted in the Tech. Tree with a % icon; after the deadline, unassigned discounts will vanish. The discount can only be used once — when it's applied, the purchase price reverts to normal when selling this vehicle. Discounts do not stack, and only the highest discount applies to this vehicle (if a special discount is as high as the New Year discount, the latter is used).
Follow these steps to apply a discount to a vehicle:
Go to the Garage
Click on the

Festive Atmosphere icon

(the Roman numeral on top of the snowflake)
Click on

Level Rewards

Hover over the discount and click

Select

At the list that opens, choose your desired vehicle and click the

Activate Discount

button.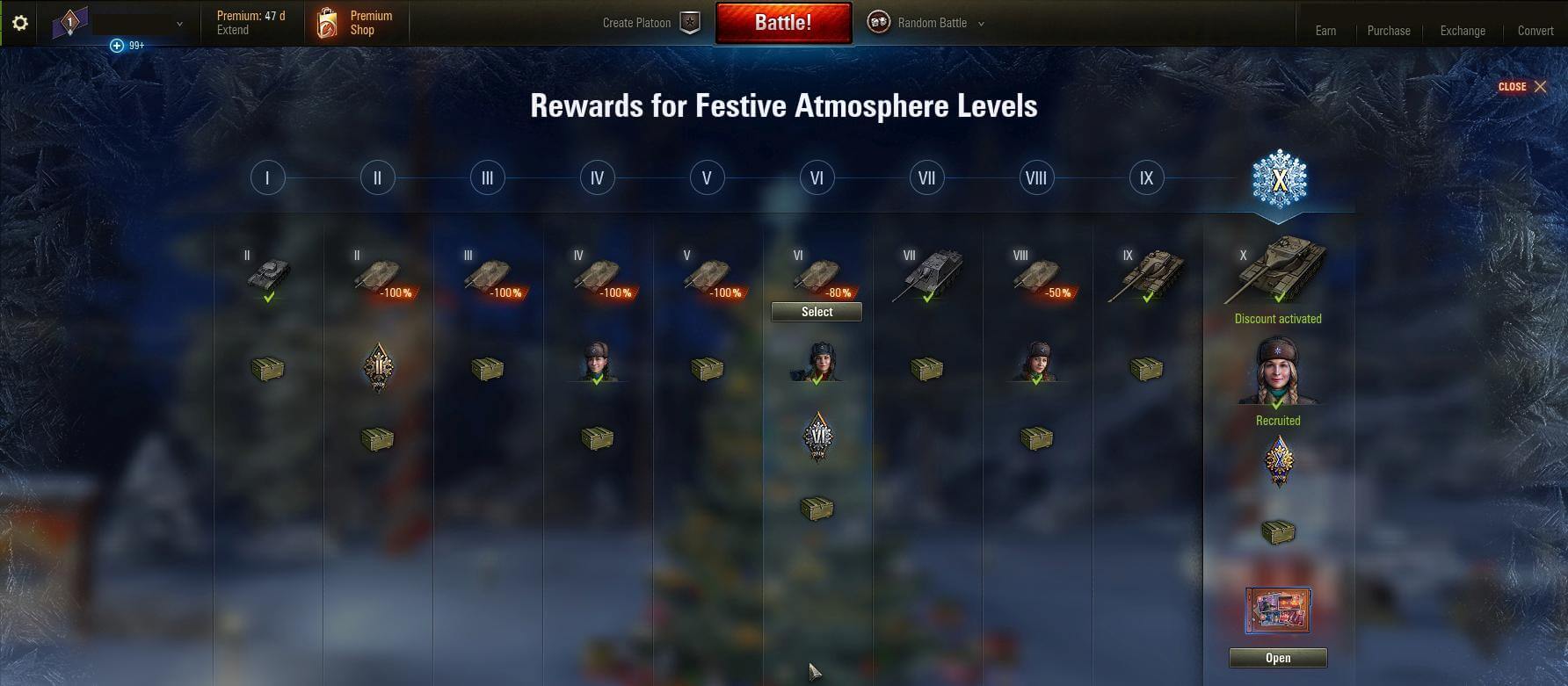 Female Crew Members & Simon Claws
Each one of the female Crewmembers — Judy Snow, Jane White, Jade Winters, and Jean Chillwind — is earned by reaching a Festive Atmosphere at level IV, VI, VIII, and X; you get Simon Claws exclusively through Large Boxes. You cannot purchase them directly. Once obtained, you can recruit any of them whenever you want — there is no expiration date. Here's how:
Go to the Garage
Click on

Barracks

in the top bar
In the left sidebar, click on

Recruits

(it will be highlighted if you have anyone to recruit)
Click

Recruit

on the specific person, choose their nation, vehicle type, vehicle, and role.

Keep in mind once you assign any of them to a specific nation, the respective Crewmember is permanently bound to that nation. Of course, you can still change the Crew role, trained vehicle, and other attributes later.
You cannot change the name or picture of the female Crewmembers or Simon Claws.
Styles
Collection Styles
You cannot purchase the collection styles directly. The only way to get them is by completing the New Year, Christmas, Magic, or Lunar collections. You receive a style for each collection you finish (see below):
| | |
| --- | --- |
| | |
| Christmas | New Year |
| | |
| Lunar NEW YEAR | Magic NEW YEAR |
Applying a style to a vehicle doesn't mean that style's permanently bound to it. As with any other style, you can remove it and put it on another vehicle of your choice.
Unique 3D Styles
As for unique 3D styles, you can only get them from Large Boxes. If you won a 3D style for a vehicle you don't own yet, you can still see it the following way:
Go to the Garage
Click on

Research

in the top bar
Select one of the following vehicles in the tech tree:
Click on

Preview

. If you own the 3D style, it will automatically show in the preview:
Regarding the T57 Heavy Tank: The Tier X vehicle will be the our January On Track missions from Jan. 9-28!
Exchanging Vehicles
First off, congratulations to all winners of a new Premium vehicle — we hope you enjoy rolling out with them! However, you can't exchange your Object 252U Defender with the normal Object 252U.
Boxes
After the end of the event, unopened boxes open automatically, and their contents credited to your account. If you accept gifted Large Boxes after the event is over, they'll open automatically.
Please watch out regarding from whom you accept Large Boxes. If you accept the gift but the gifter revokes their purchase, both of your accounts will be locked until this issue is resolved.
Make the most of the last days. Good luck!
← Prev news:
January 2019 Sneak Preview
---
Update comments