Here we are, another year in the books! From the moment Star Wars: The Old Republic launched on December 20th, 2011, it has been a destination for players all over the globe. Today we wanted to share with you some memories from around the Old Republic Team and our partners at Lucasfilm about what the 8-year anniversary means to them. Be sure to head over to the official forums or any of our social channels to share your own memories!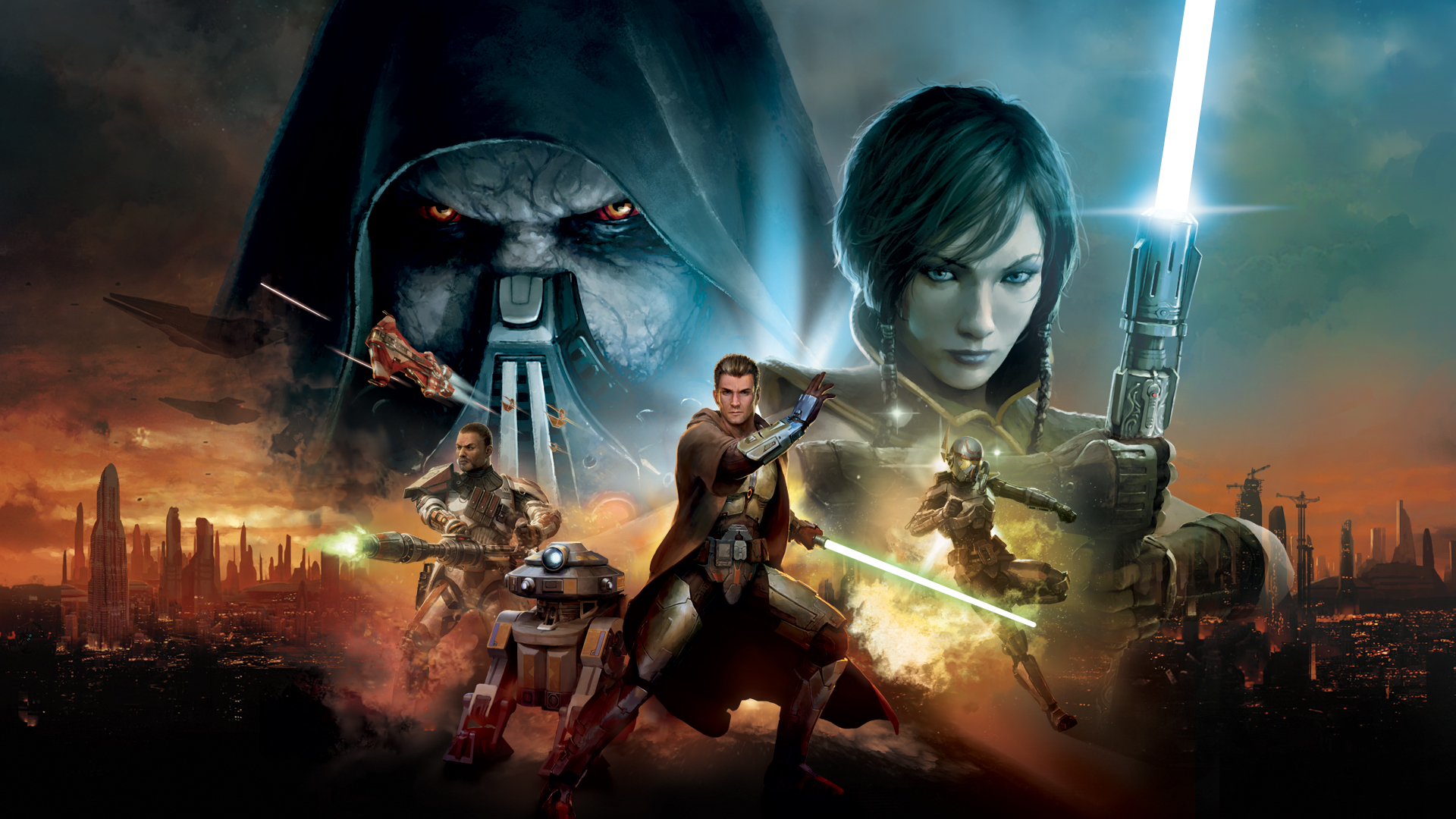 Today, STAR WARS: The Old Republic celebrates its 8-year anniversary, what does that mean to you?


"I always look forward to our anniversary as a time of reflection. Having been on the project since a little before launch, I always love to look back each year at how not only my career, but my life has changed thanks to The Old Republic." 
- Eric Musco, Senior Community Manager
"I hope that years from now, players look back on our 8th anniversary and remember that this year was the one where they could finally hug a Wookiee."
- David Bass, Development Manager
"Eight years in and I continue to be excited about being a part of this team every day! I joined SWTOR right before we began Alpha and I still fondly remember how much fun it was to test every aspect of The Old Republic. Here we are on our 8th anniversary and I think I play more today than ever before (I am not sure how this is even possible). Now, I look forward to seeing what surprises we can deliver to all of you in the coming year."
- Keith Kanneg, Senior Producer
"From seeing players come in the day Ossus went live to playing Flashpoints and slaying World Bosses with Onslaught, this year showed me that the magic of SWTOR is the people that play it. The community is so wildly creative, supportive, and welcoming that it really is my honor and my joy to help bring the game to all of you. Here's to all the years yet to come!"
- Monjoni Osso, Senior Quality Analyst
"The first time I saw the trailer for Knights of the Fallen Empire, I had a visceral reaction. I teared up, got chills, but mostly, I hoped our players would see these stories, conflicts, and characters in SWTOR and feel just as awestruck as I did when I saw Valkorion extend his hand to Arcann for the first time. Now, so many years later, I still see so many players describing those same feelings of amazement, of connection to the characters and to each other. I am so thankful for the privilege of sharing these adventures with our community, and I can't wait to embark on all the journeys that are still waiting for us."
- Caitlin Sullivan Kelly, Senior Quality Analyst - Narrative Specialist
"I was incredibly fortunate to land at BioWare, Austin on Star Wars: The Old Republic as my first job in the industry in 2011. Looking back at pre-launch and seeing how far we've come, the content we've released, and the stories players have carved out as their little chunk of the galaxy is awe-inspiring. This game and this family (studio family AND player family) hold a large, and quite permanent, place in my heart. There's no place I'd rather be. Well, maybe Rodia, but for now I'm here."
- Phred Newman, MTX/Art QV Specialist, Scrutinizer of Aurebesh
"What has inspired me the most over the past few years is seeing first-hand the amount of heart and passion put into Star Wars: The Old Republic by the development team, and how that has translated into social connections between fans from all backgrounds and brought them together with a mutual love of Star Wars and the stories we can all share. Every day I am humbled by the communities built around and because of Star Wars: The Old Republic."
- Chris Schmidt, Lead Designer
"When I was six years old, I saw Star Wars for the first time.  I knew then and there what I wanted to do with my life, and I told my Mom on the way home.  She said 'What, you want to fly spaceships?' I said, 'No, I want to build the models and effects from the movie.'' I feel that working at BioWare on SWTOR for the past nine and a half years, I've gotten about as close as I can to doing what my six year-old self dreamed of doing.  And that's pretty awesome. I'm very thankful."
- Bradley W. Lewis, Art Lead: Props and VFX
"The Eight year anniversary to me means SWTOR has been running for 8 years."
- Alex Gurany, Lead Analyst
"I remember seeing the Star Wars movies as a kid. I never imagined that someday I'd be contributing to the Star Wars universe in some way. Believe it or not, sometimes there are boring days here, when I'm pouring through logs trying to figure out a problem, reviewing code checkins to see when something changed, etc. Whenever I have a day like that, I log into the game and see the people playing and enjoying it, and it all seems worthwhile."
- Calan Thurow, Technical Director
"I feel so fortunate to work on Star Wars: The Old Republic. No other game has its unique balance of choice-driven storytelling and multiplayer gameplay, creating a shared environment for endless adventures in that galaxy far, far away that we all love so much. Getting the opportunity to create that experience while working alongside such talented and passionate teammates is truly an honor. Eight years is a huge milestone, and we still have stories to tell."
- Charles Boyd, Creative Director
"I can't believe we are 8 years in. With each year that passes, I feel prouder and prouder of what our team has accomplished on Star Wars: The Old Republic. It is an honor to be able to work on such an awesome game alongside such awesome folks. I can't wait to see where this adventure takes us next!"
- Cole Wristen, Lead Audio
"Ten years ago, caught up in the excitement of Star Wars: The Old Republic's announcement, my best friend and I started a podcast with hopes of influencing the game in some small way. Fast forward a decade, and I'm humbled and intensely proud of how far this game has come in eight years, how this development team has matured, and how many dedicated players continue to make SWTOR their home in a galaxy far, far away. I can't wait to share what's next!"
- Brooks Guthrie, Lead Development Director
"It's a pleasure and an honor to both work on SWTOR, and also with a team as skilled and enthusiastic as this one is. Getting to nerd out with such a talented group of people over all the awesome experiences we want to offer players is truly the most fun job I could imagine. I have also learned from being on the team that it's important to find situations throughout the day to yell 'Kobe' or 'Got em' as often and loudly as possible."
- Mike Bradley, Associate Producer
"To see this project reach eight years in the wild after having worked on it for over a decade… and for it to still be thriving the way that it is… It's really a testament to dedication --not just on the part of its development staff, but also on the part of all of you, its fans. The passion is as bottomless as it is awe inspiring, and it has let us keep making this amazing thing for all these years… so honestly thank you so much."
- Matt Pucevich, Encounter Design
"As one of our longest running live-service Star Wars games, SWTOR has found a special place in the hearts of all of us here at Lucasfilm. BioWare has done an amazing job bringing fun and authentic Star Wars stories to SWTOR, and every anniversary we always find ourselves humbled and excited at the commitment and passion of this community."
- Douglas Reilly, Vice President, Lucasfilm Games
"Its hard to believe it's been 8 years since the launch of SWTOR.  So many great memories, working with all of the passionate people at BioWare, the launch event at Times Square eight years ago, expansion packs and cantina events with the dedicated fans that have supported this game from day one. 8 years later we are still as excited as ever to bring new Star Wars content to the game, and look forward to supporting this great community for years to come. Congratulations to BioWare and SWTOR fans. Thank you for your support!"
- Matthew Fillbrandt, Executive Producer, Lucasfilm Games
"Over eleven years ago, I joined the Star Wars: The Old Republic audio team at LucasArts...and I'm so proud to be wishing it a very happy eighth anniversary. As a BioWare fan, it remains an honor to work alongside some of the creators and storytellers that inspired me to make games in the first place. As a steward of Star Wars, it remains humbling to tell tales of the Old Republic (with many familiar voices!) to a warm and dedicated group of players. Happy Life Day to everyone–and see you next year!"
- Orion Kellogg, Senior Producer, Lucasfilm Games
"The Old Republic is a game created first and foremost by Star Wars fans and gamers. It is BioWare's love for the community and dedication to the fans that continues to grow the Old Republic after 8 years. Congratulation on this monumental success of SWTOR 8th anniversary!"
- Hez Chorba, Creative Director, Lucasfilm Games
Head to the forums, Twitter, or Facebook and share your own memories!
-The STAR WARS: The Old Republic Team
← Prev news:
Cartel Market Newest Additions: Available Now!
---
Update comments